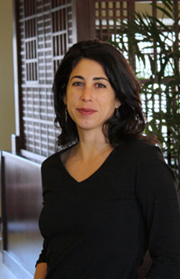 Ana Menéndez was born in Los Angeles, the daughter of Cuban exiles. She is the author of four books of fiction, In Cuba I Was a German Shepherd, which was a 2001 New York Times Notable book of the year and whose title story won a Pushcart Prize, Loving Che (2004), The Last War (2009) chosen by Publishers Weekly as one of the top 100 books of the year, and Adios, Happy Homeland!
Since 1991 Ana has worked as a journalist in the United States and abroad, most recently as a prize-winning columnist for The Miami Herald. As a reporter, she has written about Cuba, Haiti, Kashmir, Afghanistan and India, where she was based for three years.
Her work has appeared in a variety of publications including Vogue, Bomb Magazine, Poets & Writers and Gourmet Magazine and has been included in several anthologies, including Cubanisimo! and American Food Writing. She has a B.A. in English from Florida International University and an M.F.A. from New York University. A former Fulbright Scholar in Egypt, she now lives in Maastricht and Miami.